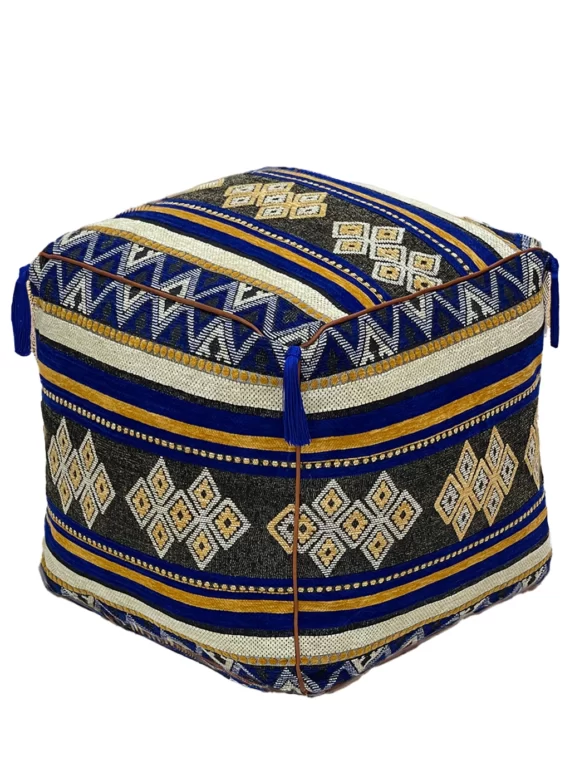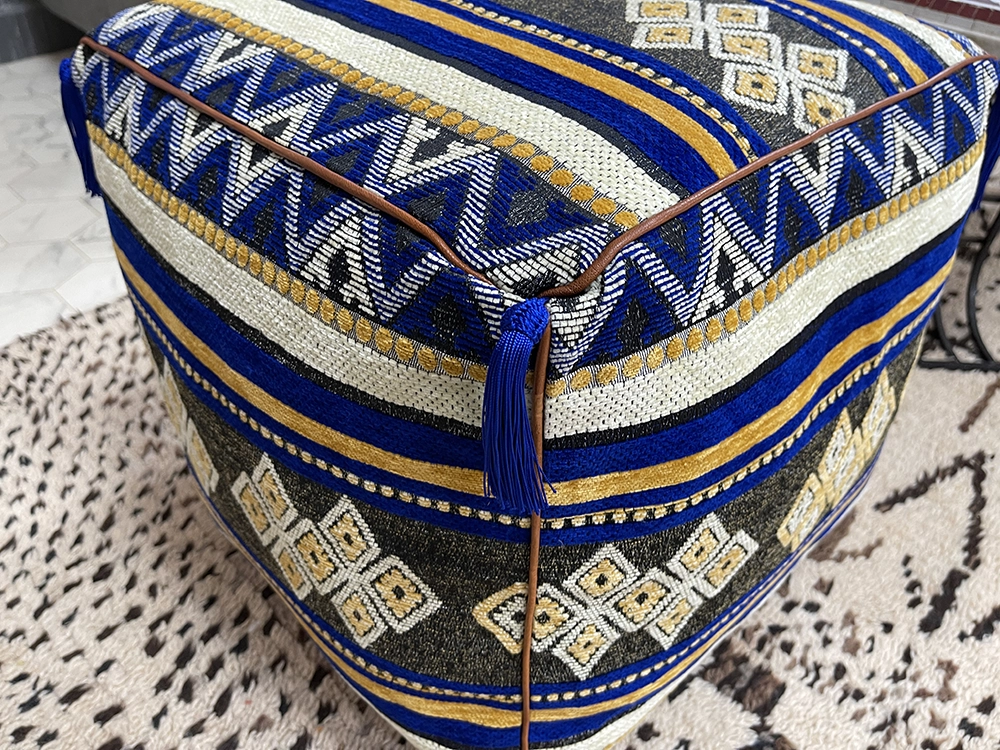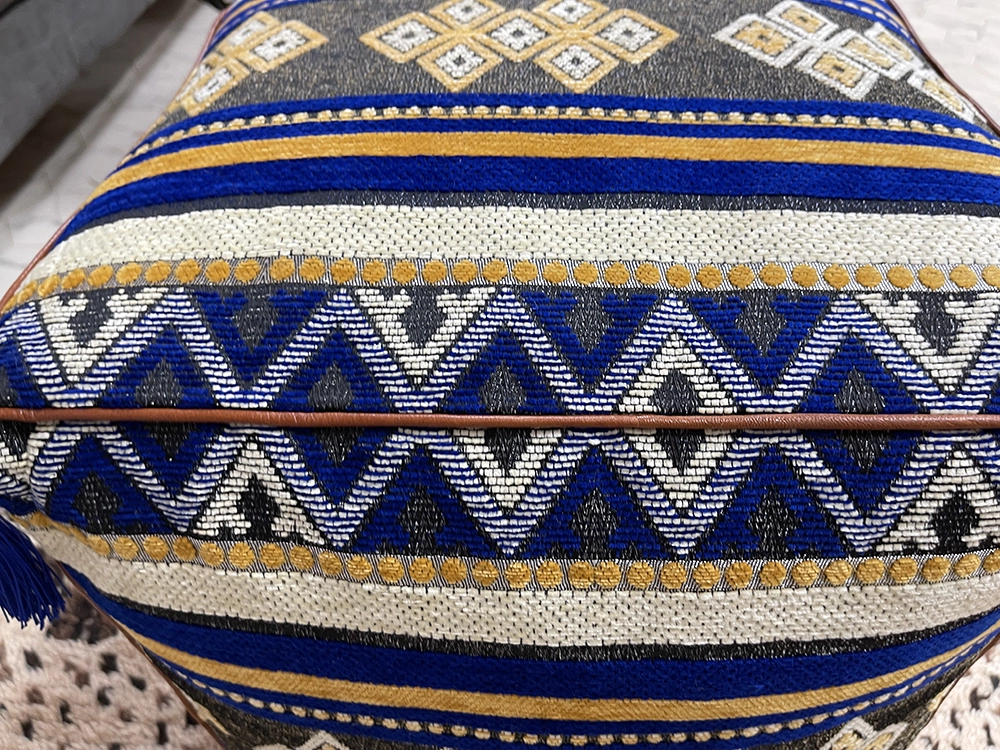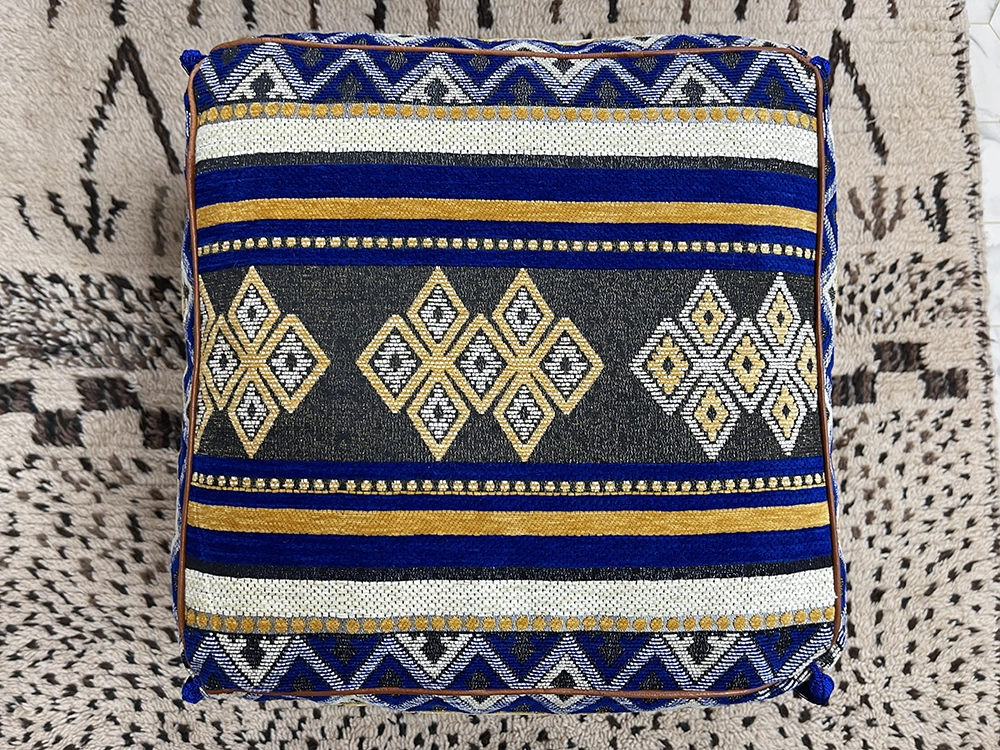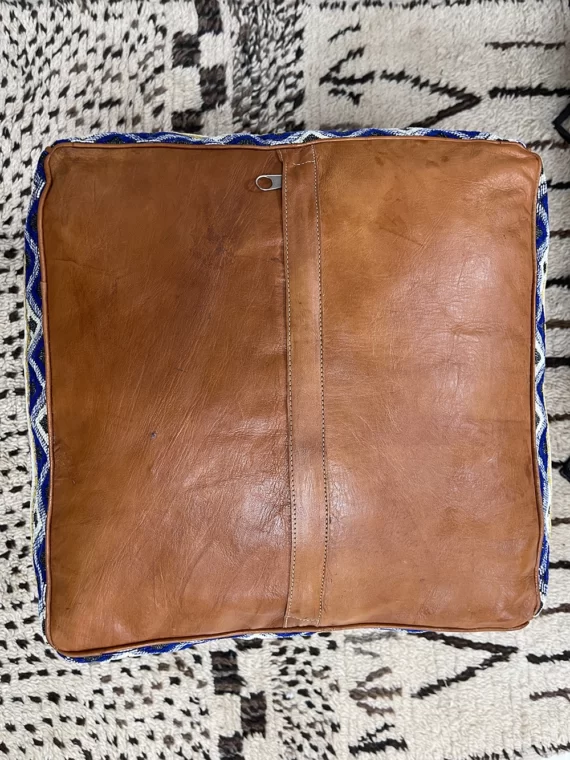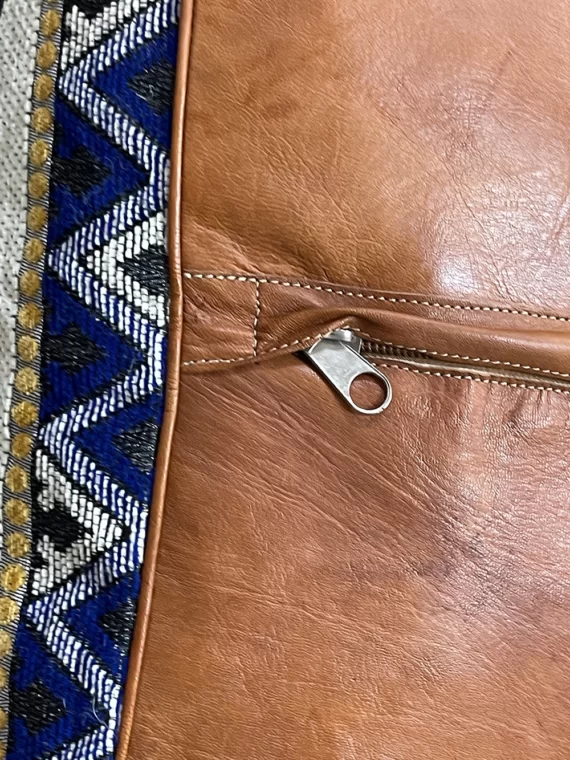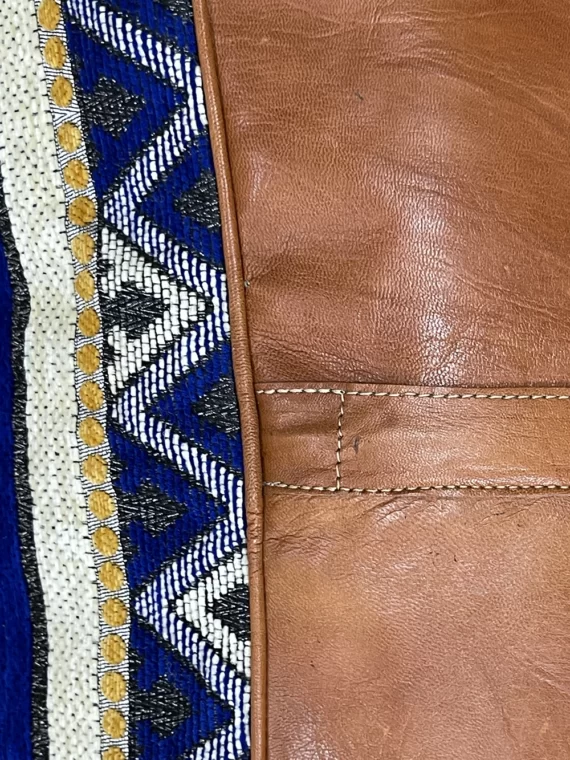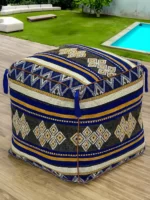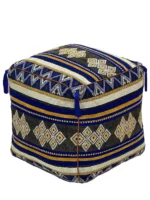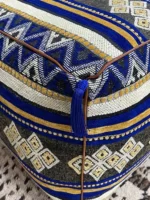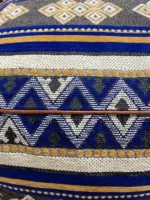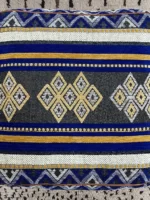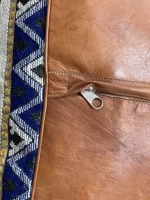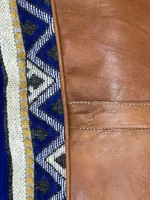 moroccan pouf – Atlas Adventure
27
people are viewing this right now
Frequently Bought Together

Guaranteed safe & secure checkout
Description
Soft, Plush Texture for Ultimate Comfort: The Atlas Adventure Pouf
The Atlas Adventure Pouf is a true embodiment of tranquility and elegance. With its soft, plush texture and gentle curves, it invites you to sink into a world of serenity and peace.
✋ Made: Handmade in Morocco
🧶 Materials: 100% original leather
👃 No bad Leather Smell
📏 Size: 18″ in (45 cm)
🌱 Stuffing: unfilled
🆓 Free worldwide shipping
✈️ Fast delivery 2-7 Business days with FedEx
🌟A True Embodiment of Tranquility and Elegance:
Introducing the Atlas Adventure Pouf – a true embodiment of tranquility and elegance. Its exquisite design and premium craftsmanship create a serene atmosphere in any room. Embrace the allure of a pouf that invites you to experience a world of serenity and peace.
🌟Soft, Plush Texture for Ultimate Comfort:
Indulge in the comfort of the Atlas Adventure Pouf, featuring a soft, plush texture that delights your senses. Sink into the gentle curves of this pouf and experience a haven of relaxation. The pouf offers a luxurious seating option or footrest, adding a touch of elegance to your living space.
🌟Embrace a World of Serenity and Peace:
Discover a world of tranquility and peace with the Atlas Adventure Pouf. Its inviting design creates a calming ambiance, allowing you to unwind and escape the hustle of daily life. Embrace the essence of serenity and elevate your home decor with the Atlas Adventure Pouf.
🔍 Broad Match Keywords:
Atlas Adventure Pouf
Tranquility and elegance furniture
Premium craftsmanship for the pouf
Soft and plush texture seating
Luxurious seating and footrest option
Embrace peace with the pouf
Serene ambiance for any room
Create a calming haven with the pouf
Elevate your space with tranquility
Shipping cost is based on weight. Just add products to your cart and use the Shipping Calculator to see the shipping price.
We want you to be 100% satisfied with your purchase. Items can be returned or exchanged within 30 days of delivery.
There are no question found.
Quick Comparison
Settings
moroccan pouf - Atlas Adventure

remove

moroccan pouf - Mirage

remove

moroccan pouf - Colored Moropouf

remove

moroccan pouf - Henna Hides

remove

moroccan pouf - Smoky Souk

remove

moroccan pouf - Purple Palace

remove

Image
SKU
P28
P29
P30
P9
P8
P14
Rating
Price
Stock
Description

✋ Made: Handmade in Morocco
👜 Materials:  Pure leather and Dain
👃 No bad Leather Smell
🌱 Stuffing: unfilled
🆓 Free worldwide shipping
✈️ Fast delivery 2-7 day with FedEx

✋ Made: Handmade in Morocco
👜 Materials:  Pure leather and Dain
👃 No bad Leather Smell
🌱 Stuffing: unfilled
🆓 Free worldwide shipping
✈️ Fast delivery 2-7 day with FedEx

✋ Made: Handmade in Morocco
👜 Materials:  Pure leather and Dain
👃 No bad Leather Smell
🌱 Stuffing: unfilled
🆓 Free worldwide shipping
✈️ Fast delivery 2-7 day with FedEx

✋ Made: Handmade in Morocco
👜 Materials:  Pure leather and Dain
👃 No bad Leather Smell
🌱 Stuffing: unfilled
🆓 Free worldwide shipping
✈️ Fast delivery 2-7 day with FedEx

✋ Made: Handmade in Morocco
👜 Materials:  Pure leather and Dain
👃 No bad Leather Smell
🌱 Stuffing: unfilled
🆓 Free worldwide shipping
✈️ Fast delivery 2-7 day with FedEx

✋ Made: Handmade in Morocco
👜 Materials:  Pure leather and Dain
👃 No bad Leather Smell
🌱 Stuffing: unfilled
🆓 Free worldwide shipping
✈️ Fast delivery 2-7 day with FedEx

Weight
Dimensions
45 × 45 × 45 cm
53 × 33 cm
53 × 33 cm
53 × 33 × 33 cm
53 × 33 cm
53 × 33 cm
Additional information

| | |
| --- | --- |
| Dimensions | 45 × 45 × 45 cm |
| Color | Blue |

| | |
| --- | --- |
| Dimensions | 53 × 33 cm |
| Color | Beige |

| | |
| --- | --- |
| Dimensions | 53 × 33 cm |
| Color | Orange, Red, Yellow |

| | |
| --- | --- |
| Dimensions | 53 × 33 × 33 cm |
| Color | dark brown, Black |

| | |
| --- | --- |
| Dimensions | 53 × 33 cm |
| Color | Gray |

| | |
| --- | --- |
| Dimensions | 53 × 33 cm |
| Color | Purple |

Add to cart