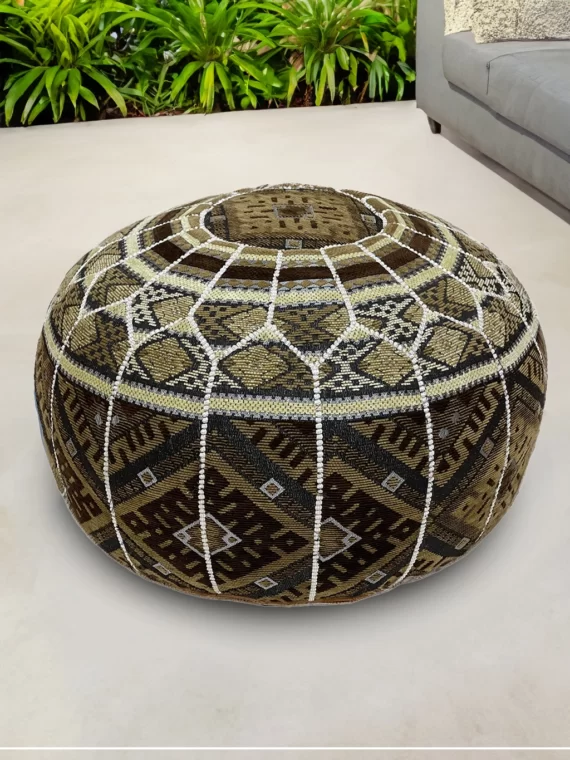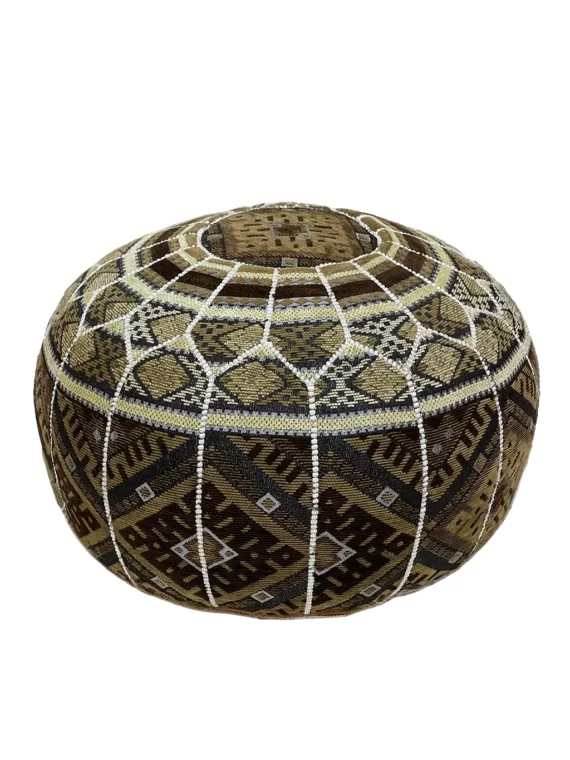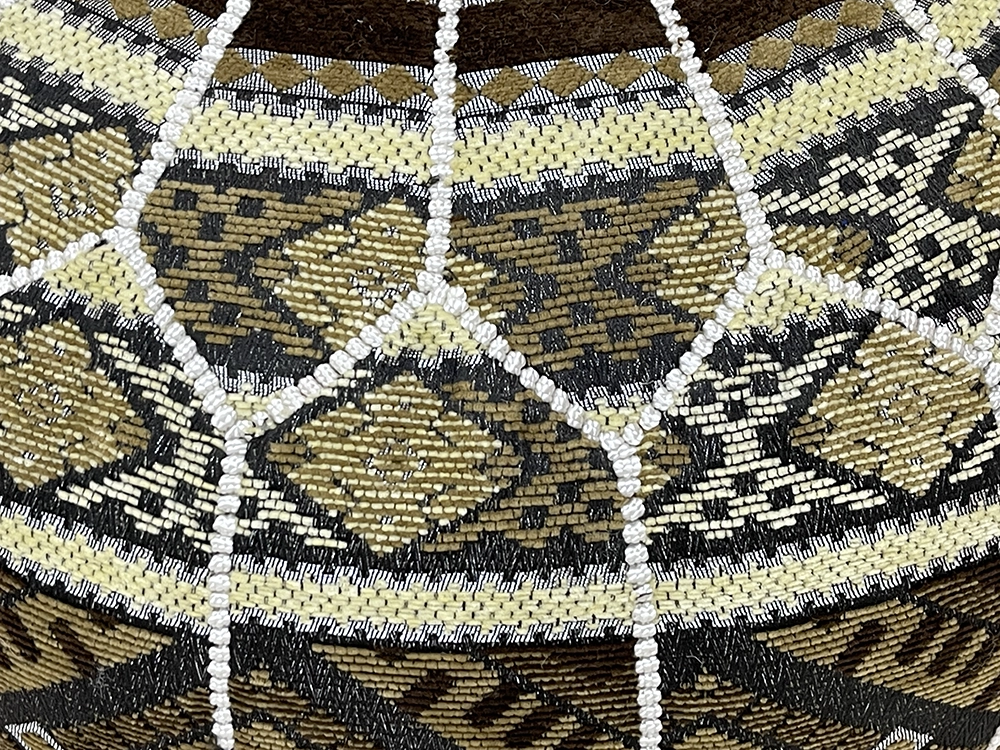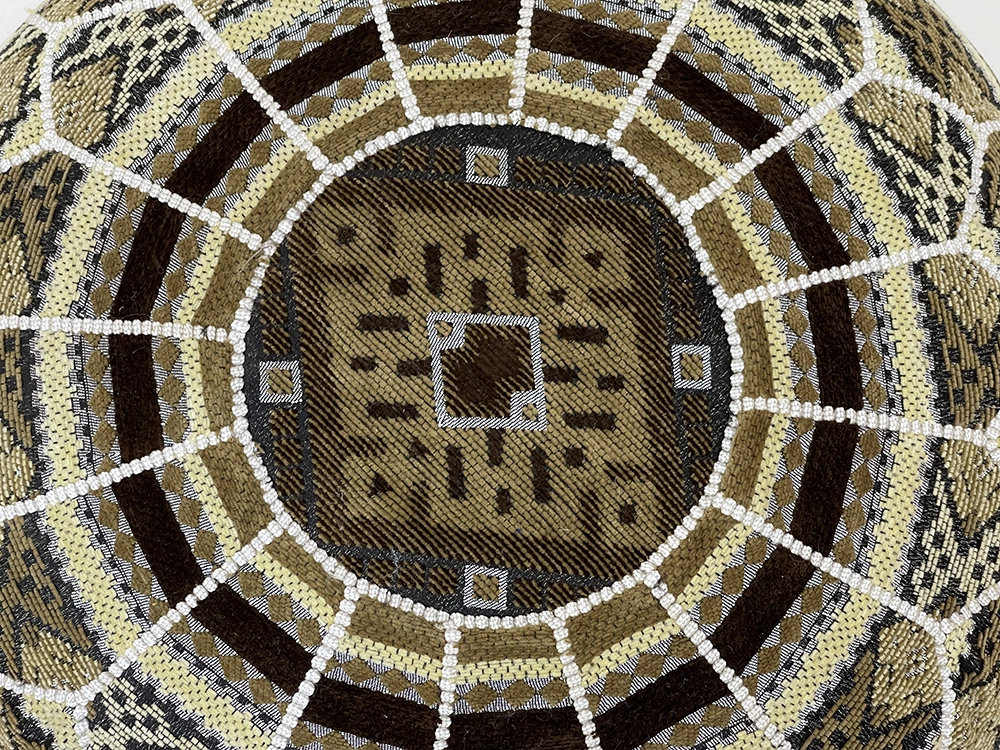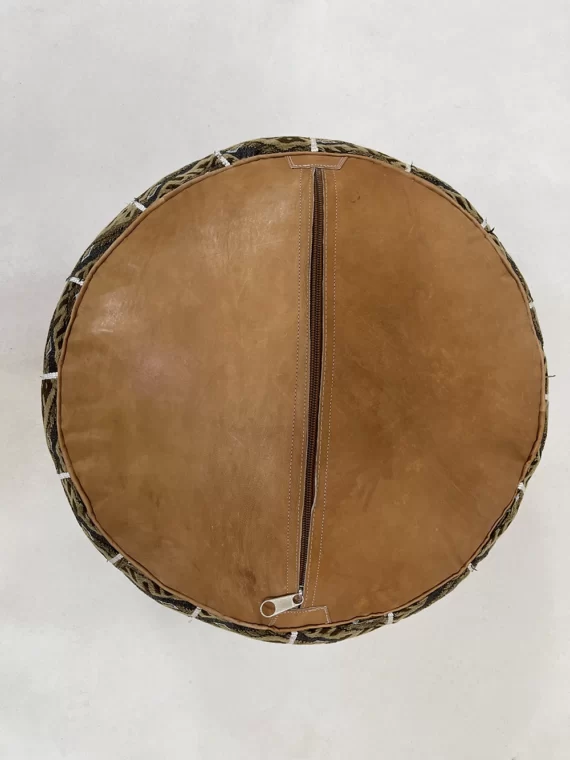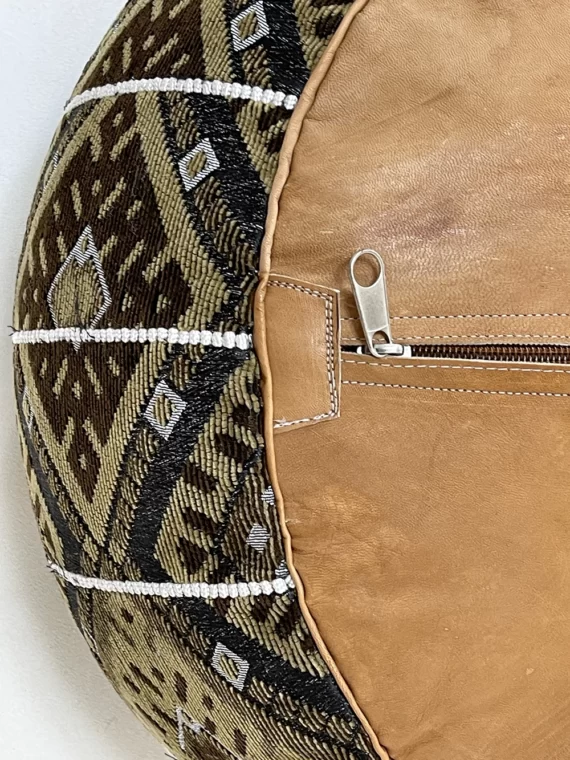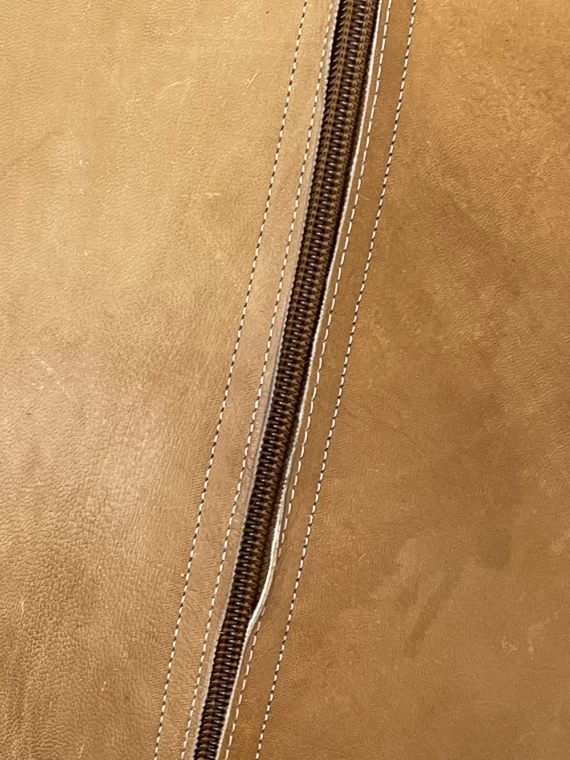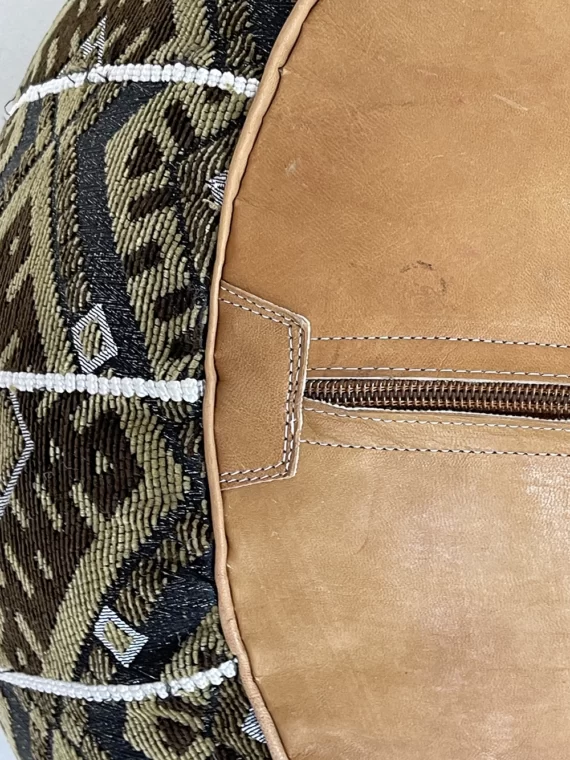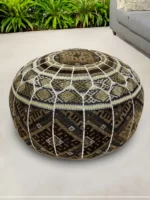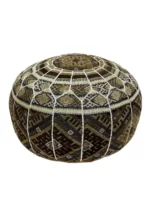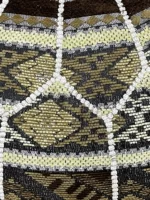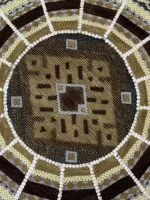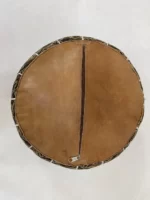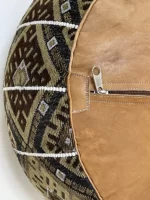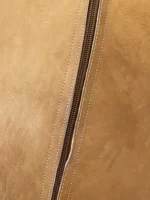 moroccan pouf – African Illusion
30
people are viewing this right now
Frequently Bought Together

Guaranteed safe & secure checkout
Description
Depth & Richness: African Illusion Pouf
What sets the African Illusion Pouf apart is its intricate and vibrant design. The pouf features a unique pattern that is inspired by the rich and diverse art and textiles of Africa. The bold colors and shapes create a sense of movement and energy, while the intricate details and textures provide a sense of depth and richness.
✋ Made: Handmade in Morocco
🧶 Materials: 100% original leather
👃 No bad Leather Smell
📏 Size: 21″ in x 13″ in (53 x 33 cm)
🌱 Stuffing: unfilled
🆓 Free worldwide shipping
✈️ Fast delivery 2-7 Business days with FedEx
🌟Captivating & Vibrant: African Illusion Pouf
Discover the African Illusion Pouf, a captivating and vibrant piece of furniture that stands out from the rest. Its unique pattern, inspired by the rich art and textiles of Africa, sets it apart and makes it an artistic addition to any living space.
🌟Inspired by African Art
Experience the essence of African art with the African Illusion Pouf. Its bold colors and dynamic shapes reflect the spirit of the continent's diverse artistic traditions. Whether used as a footrest or an extra seat, this pouf brings an element of cultural beauty to your home decor.
🌟Depth & Richness
The African Illusion Pouf is not just a piece of furniture; it's a work of art. Its intricate details and textures provide a sense of depth and richness, adding layers of visual interest to your living space. Embrace the artistic energy it exudes and elevate your home decor with this stunning and culturally inspired pouf.
🔍 Broad Match Keywords:
African Illusion pouf
Captivating and vibrant design
Inspired by rich African art
Bold colors and dynamic shapes
Intricate details and textures
Artistic addition to living space
Culturally inspired pouf
Diverse art and textiles of Africa
Element of cultural beauty
Visual interest in home decor
Shipping cost is based on weight. Just add products to your cart and use the Shipping Calculator to see the shipping price.
We want you to be 100% satisfied with your purchase. Items can be returned or exchanged within 30 days of delivery.
There are no question found.
Quick Comparison
Settings
moroccan pouf - African Illusion

remove

moroccan pouf - Desert Dunes

remove

moroccan pouf - Savannah Souk

remove

moroccan pouf - Midnight Medina

remove

moroccan pouf - Cinnamon Casbah

remove

moroccan pouf - Colored Moropouf

remove

Image
SKU
P75
P19
P17
P3
P15
P30
Rating
Price
Stock
Description

✋ Made: Handmade in Morocco
👜 Materials:  Pure leather and Dain
👃 No bad Leather Smell
🌱 Stuffing: unfilled
🆓 Free worldwide shipping
✈️ Fast delivery 2-7 day with FedEx

✋ Made: Handmade in Morocco
👜 Materials:  Pure leather and Dain
👃 No bad Leather Smell
🌱 Stuffing: unfilled
🆓 Free worldwide shipping
✈️ Fast delivery 2-7 day with FedEx

✋ Made: Handmade in Morocco
👜 Materials:  Pure leather and Dain
👃 No bad Leather Smell
🌱 Stuffing: unfilled
🆓 Free worldwide shipping
✈️ Fast delivery 2-7 day with FedEx

✋ Made: Handmade in Morocco
👜 Materials:  Pure leather and Dain
👃 No bad Leather Smell
🌱 Stuffing: unfilled
🆓 Free worldwide shipping
✈️ Fast delivery 2-7 day with FedEx

✋ Made: Handmade in Morocco
👜 Materials:  Pure leather and Dain
👃 No bad Leather Smell
🌱 Stuffing: unfilled
🆓 Free worldwide shipping
✈️ Fast delivery 2-7 day with FedEx

✋ Made: Handmade in Morocco
👜 Materials:  Pure leather and Dain
👃 No bad Leather Smell
🌱 Stuffing: unfilled
🆓 Free worldwide shipping
✈️ Fast delivery 2-7 day with FedEx

Weight
Dimensions
53 × 33 cm
53 × 33 cm
53 × 33 cm
53 × 33 cm
53 × 33 cm
53 × 33 cm
Additional information

| | |
| --- | --- |
| Dimensions | 53 × 33 cm |
| Color | Beige |

| | |
| --- | --- |
| Dimensions | 53 × 33 cm |
| Color | Brown, Beige |

| | |
| --- | --- |
| Dimensions | 53 × 33 cm |
| Color | Brown, Black, White |

| | |
| --- | --- |
| Dimensions | 53 × 33 cm |
| Color | Black |

| | |
| --- | --- |
| Dimensions | 53 × 33 cm |
| Color | Orange, Red, Yellow |

| | |
| --- | --- |
| Dimensions | 53 × 33 cm |
| Color | Orange, Red, Yellow |

Add to cart