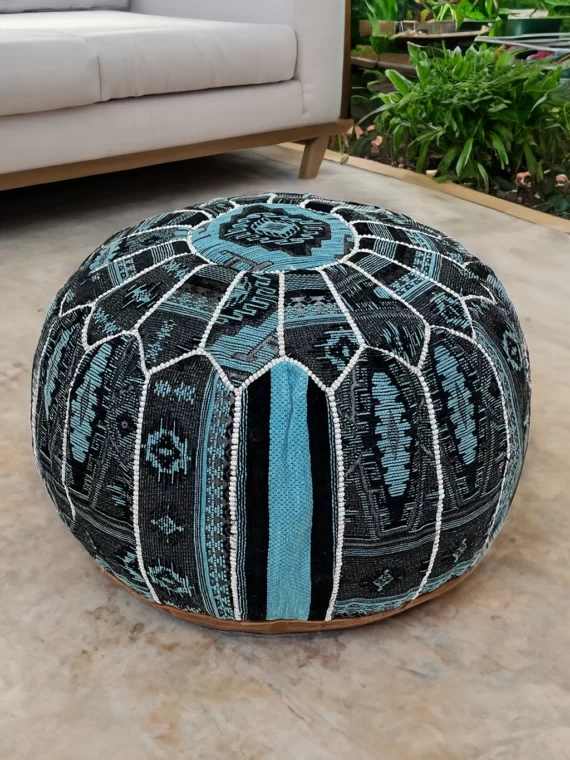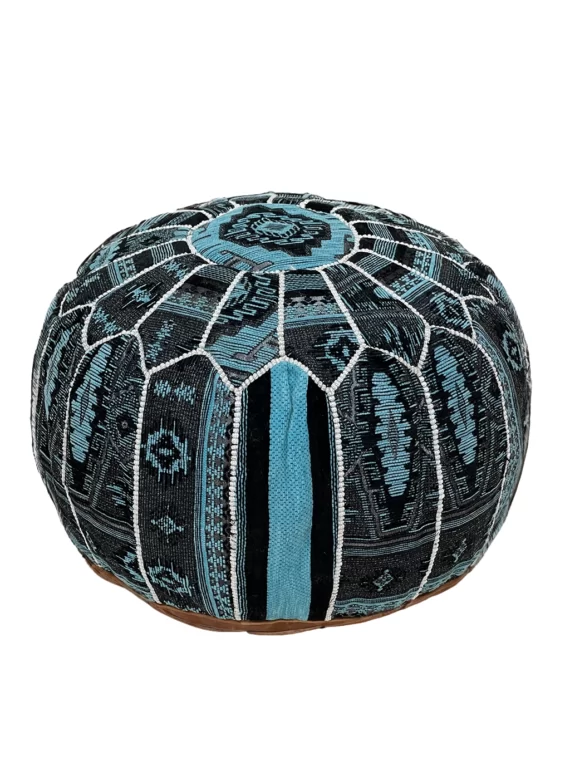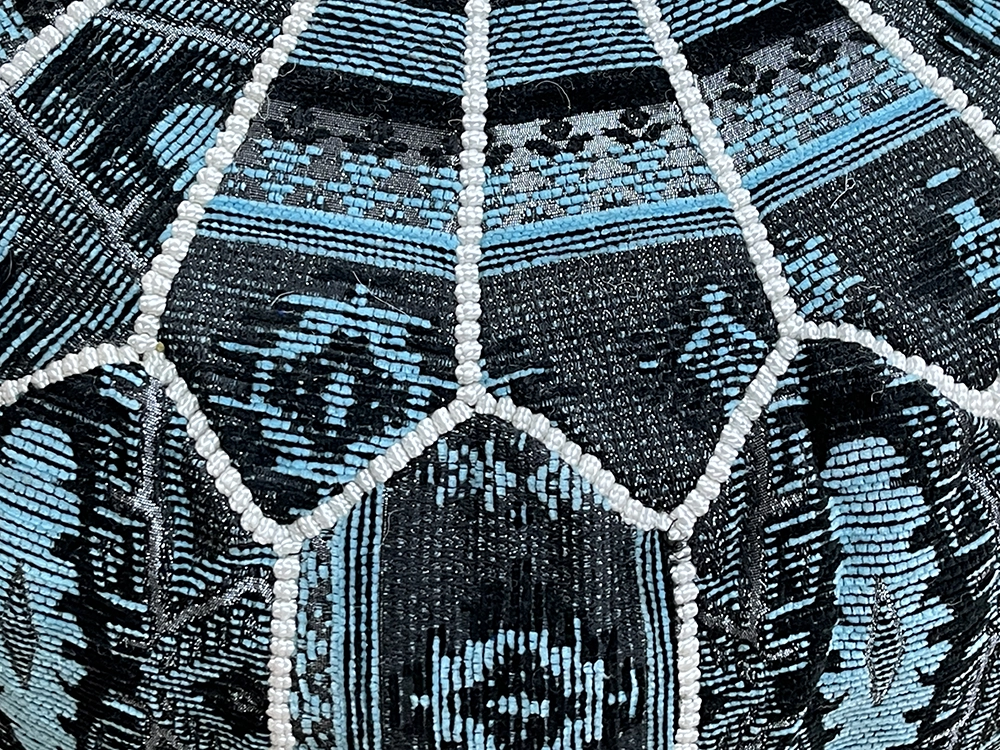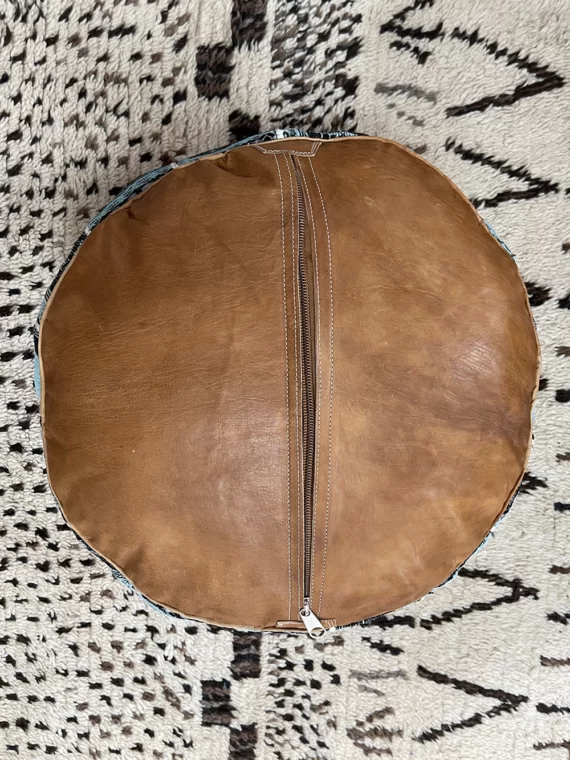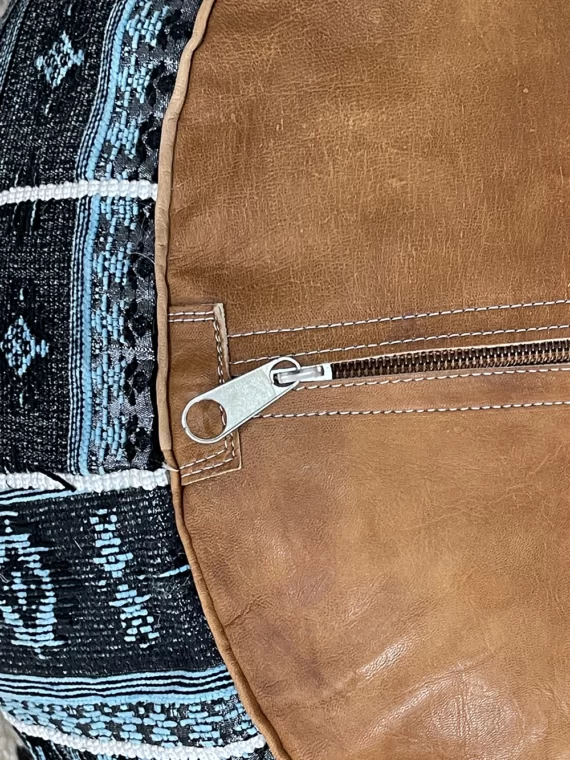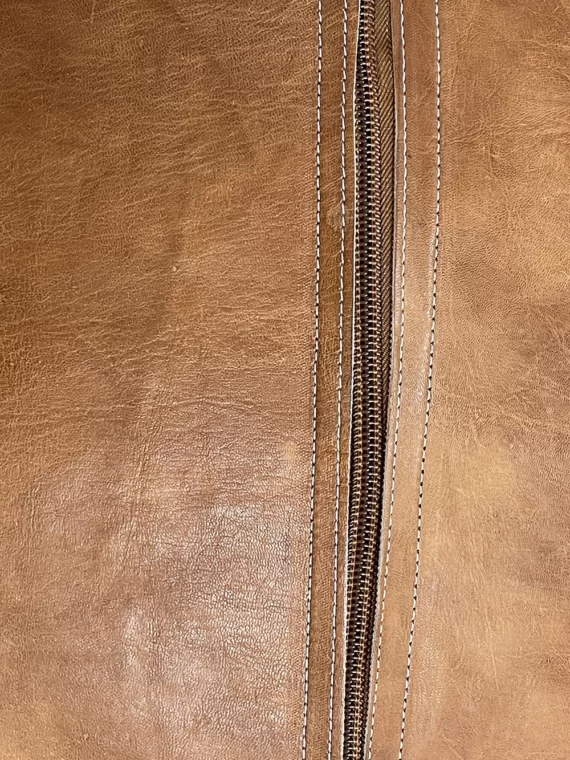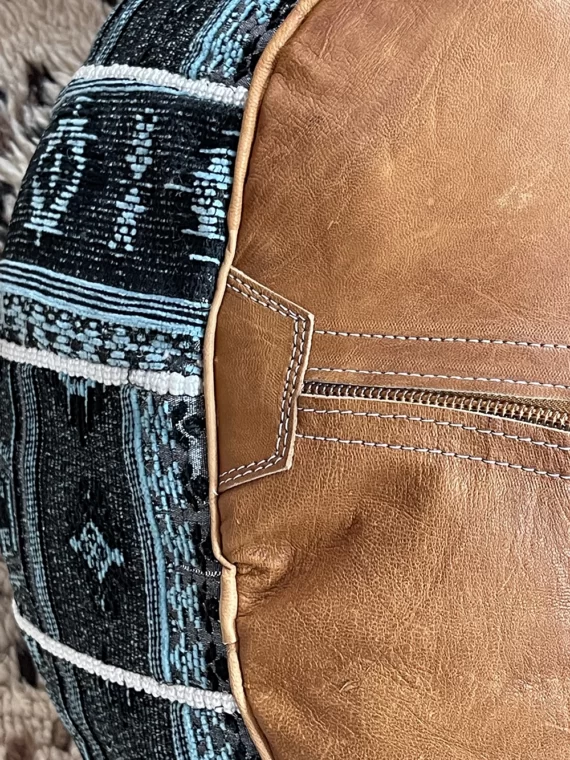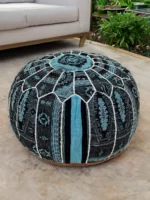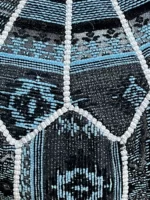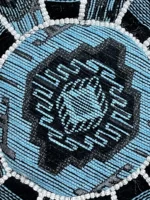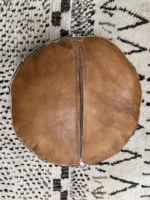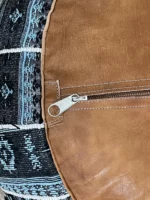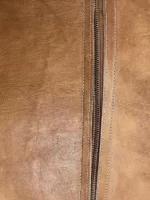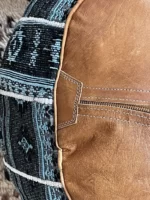 moroccan pouf – Majestic Oasis
23
people are viewing this right now
Frequently Bought Together

Guaranteed safe & secure checkout
Description
Eco-Friendly Majestic Oasis Pouf
a stunning piece that combines the beauty of Moroccan design with the comfort of a handcrafted leather and tissue pouf. Its light blue color and intricate details make it a statement piece that will add a touch of elegance to any room. With a Moroccan touch, this pouf is not only stylish, but also eco-friendly, made from sustainable materials. Whether you're using it as a seat or as a decorative accent, the "Majestic Oasis" pouf is sure to bring a touch of cultural richness and sophistication to your living space.
✋ Made: Handmade in Morocco
🧶 Materials: 100% original leather
👃 No bad Leather Smell
📏 Size: 21″ in x 13″ in (53 x 33 cm)
🌱 Stuffing: unfilled
🆓 Free worldwide shipping
✈️ Fast delivery 2-7 Business days with FedEx
🌟Moroccan Elegance in Light Blue
Discover the perfect blend of Moroccan design and comfort with our "Majestic Oasis" pouf. Handcrafted from pure leather and tissue, this stunning piece showcases the beauty of Moroccan artistry. The light blue color adds a refreshing touch to your decor, creating a serene oasis in any room.
🌟Handcrafted Artistry and Eco-Friendly Materials
At the heart of the "Majestic Oasis" pouf lies the intricate handcrafted artistry that makes it a true masterpiece. Its unique design and attention to detail set it apart as a statement piece that exudes elegance and sophistication. Additionally, this pouf is eco-friendly, made from sustainable materials, reflecting your commitment to a greener lifestyle.
🌟Versatile Charm and Cultural Richness
Embrace the Moroccan touch with the "Majestic Oasis" pouf, adding cultural richness to your living space. Its versatility shines as it serves as both a comfortable seat and a captivating decorative accent. Whether you place it in your living room, bedroom, or any corner that needs a touch of elegance, this pouf brings an aura of majesty and refinement to your home.
🔍 Broad Match Keywords:
Majestic Oasis pouf
Moroccan design handcrafted pouf
Light blue leather tissue pouf
Statement piece decor
Eco-friendly sustainable materials
Versatile and comfortable seating
Handmade intricate design
Elegance and sophistication
Cultural richness accent
Moroccan-inspired room decor
Shipping cost is based on weight. Just add products to your cart and use the Shipping Calculator to see the shipping price.
We want you to be 100% satisfied with your purchase. Items can be returned or exchanged within 30 days of delivery.
There are no question found.
Quick Comparison
Settings
moroccan pouf - Majestic Oasis

remove

moroccan pouf - Henna Hides

remove

moroccan pouf - Brown Berber

remove

moroccan pouf - Misty Gray

remove

moroccan pouf - Henna Oasis

remove

moroccan pouf - Mystique

remove

Image
SKU
P48
P9
P12
P7
P4
P26
Rating
Price
Stock
Description

✋ Made: Handmade in Morocco
👜 Materials:  Pure leather and Dain
👃 No bad Leather Smell
🌱 Stuffing: unfilled
🆓 Free worldwide shipping
✈️ Fast delivery 2-7 day with FedEx

✋ Made: Handmade in Morocco
👜 Materials:  Pure leather and Dain
👃 No bad Leather Smell
🌱 Stuffing: unfilled
🆓 Free worldwide shipping
✈️ Fast delivery 2-7 day with FedEx

✋ Made: Handmade in Morocco
👜 Materials:  Pure leather and Dain
👃 No bad Leather Smell
🌱 Stuffing: unfilled
🆓 Free worldwide shipping
✈️ Fast delivery 2-7 day with FedEx

✋ Made: Handmade in Morocco
👜 Materials:  Pure leather and Dain
👃 No bad Leather Smell
🌱 Stuffing: unfilled
🆓 Free worldwide shipping
✈️ Fast delivery 2-7 day with FedEx

✋ Made: Handmade in Morocco
👜 Materials:  Pure leather and Dain
👃 No bad Leather Smell
🌱 Stuffing: unfilled
🆓 Free worldwide shipping
✈️ Fast delivery 2-7 day with FedEx

✋ Made: Handmade in Morocco
👜 Materials:  Pure leather and Dain
👃 No bad Leather Smell
🌱 Stuffing: unfilled
🆓 Free worldwide shipping
✈️ Fast delivery 2-7 day with FedEx

Weight
Dimensions
53 × 33 cm
53 × 33 × 33 cm
53 × 33 cm
53 × 33 × 33 cm
53 × 33 cm
53 × 33 cm
Additional information

| | |
| --- | --- |
| Dimensions | 53 × 33 cm |
| Color | Navy Blue, Blue |

| | |
| --- | --- |
| Dimensions | 53 × 33 × 33 cm |
| Color | dark brown, Black |

| | |
| --- | --- |
| Dimensions | 53 × 33 × 33 cm |
| Color | Gray |

| | |
| --- | --- |
| Dimensions | 53 × 33 cm |
| Color | dark brown, Black |

| | |
| --- | --- |
| Dimensions | 53 × 33 cm |
| Color | Brown |

Add to cart